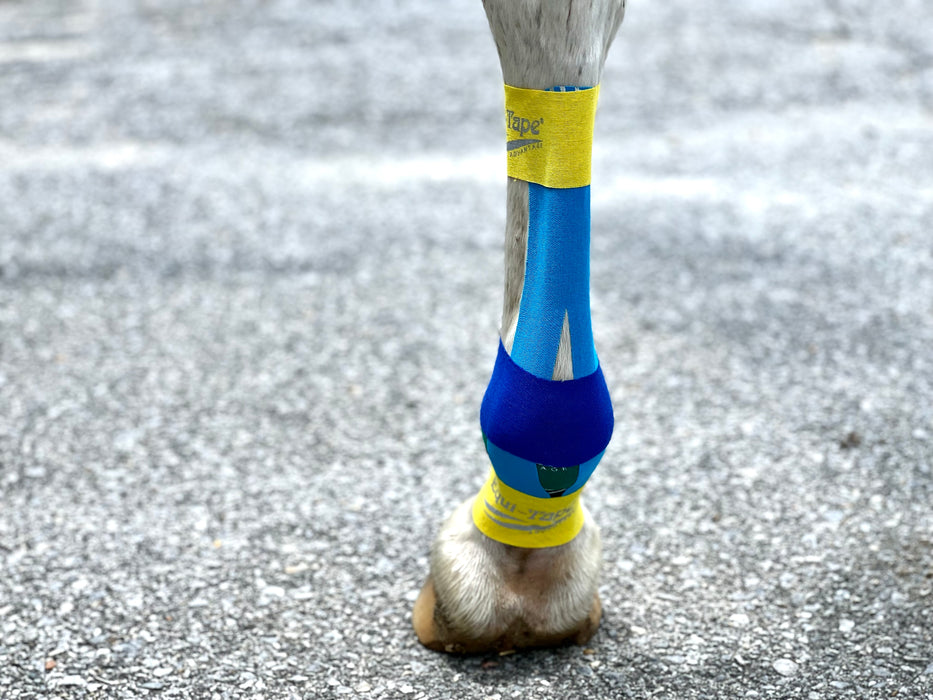 Module: Lower Leg
Original price
$40.00
-
Original price
$85.00
Each module level is sold separately. If you are interested in purchasing all modules please add them separately to your cart before check out.
The Lower Leg Module is designed to educate all levels of equestrians and equine healthcare professionals. Each Equi-Taping™ module allows you to grow your knowledge in the areas you want to learn. 
Please note that each module level is available for individual purchase only. If you wish to purchase all modules, kindly add them separately to your cart before checking out. Please be informed that these modules are for educational purposes only and do not come with any physical products.
Equi-Tape® created effective and groundbreaking applications designed to prevent injuries, reduce healing time for injuries and help correct problems like contracted tendons. Built to be taken on their own, you can choose which level is right for you and your horse.
Athletic Support: Focuses on supporting your equine athlete's lower legs. The main benefits of this application are to help prevent injuries by supporting correct biomechanics and increasing circulation to reduce heat, swelling, and friction in the tendons and ligaments. This level covers basic anatomy and gives a step-by-step demonstration of this easy-to-apply, effective application that can be worn before, during, and after training!

Suspensory Support: Gain comprehensive knowledge about equine anatomy and physiology to truly help your horse. We discuss suspensory ligament and tendon injuries, tears, rupture, and sprains. Learn how to help horses recover from injuries with an Equi-Tape® application designed to support the leg anatomy, reduce pain, increase circulation, and prevent further injury. The instructor demonstrates Equi-Taping™ applications from different angles and with the ability to watch the module on your time we know you will be confident in helping your horse recover faster. 

Collateral Ligament Support: We discuss the dynamics of a collateral ligament injury, how it is commonly missed or misdiagnosed, and the challenges ofsuccessfully rehabbing this injury. This level provides valuable education on anatomy and rehabilitation protocols that look at the whole horse. This application supports the proper operation of the anatomy without limiting the normal range of motion to improve your horse's prognosis of recovery.

Contracted Tendons Corrective Support:

We

focus on addressing the

physiology and

dynamics of contracted tendons and provide an application and protocols to effectively help your horse rehabilitate. We take a dive into anatomy, nutrition, biomechanics and share success stories! If you have a horse with contracted tendons, are a breeder

,

or

a

healthcare practitioner who deals with this issue, you will benefit from this course.

This advanced

application is taught step-by-step and is designed to help correct anatomical structures and biomechanics movement.
Included in each Module: A short video focusing on a specific Equi-Taping™ application, anatomy, and protocols. Learn how to achieve these specific applications in less than 30 minutes!
Bonus material included in every module: Surface preparation video, Techniques video, FAQ and answer video, educational articles, and a PDF of Equi-Taping™ Basic Rules.

Multiple languages in CC (closed caption) include: Arabic, English, German, French, Russian and Spanish!
Module Advantages
Learn specific ways to help support your horse's lower legs! Each level will teach you valuable information about anatomy, injury care and rehabilitation, and will help you prevent future injuries. Every application can be used in conjunction with other modalities like laser, acupressure, massage, and shock-wave and will enhance and extend their therapeutic benefits.
Application Advantages

Imagine a world where your horse can train more efficiently, recover quicker, and perform at their absolute best. This world is possible with our revolutionary product that relieves tight, sore muscles associated with training, supports ligaments, tendons, and joints to help prevent injuries, and increases suppleness, flexibility, and strength. Our product is designed to take your horse's athletic performance to the next level and extend the effects of other treatments such as chiropractic, physical therapy, acupuncture, laser, PEMF, massage, and more. Say goodbye to mediocre performance and hello to excellence with our game-changing product!