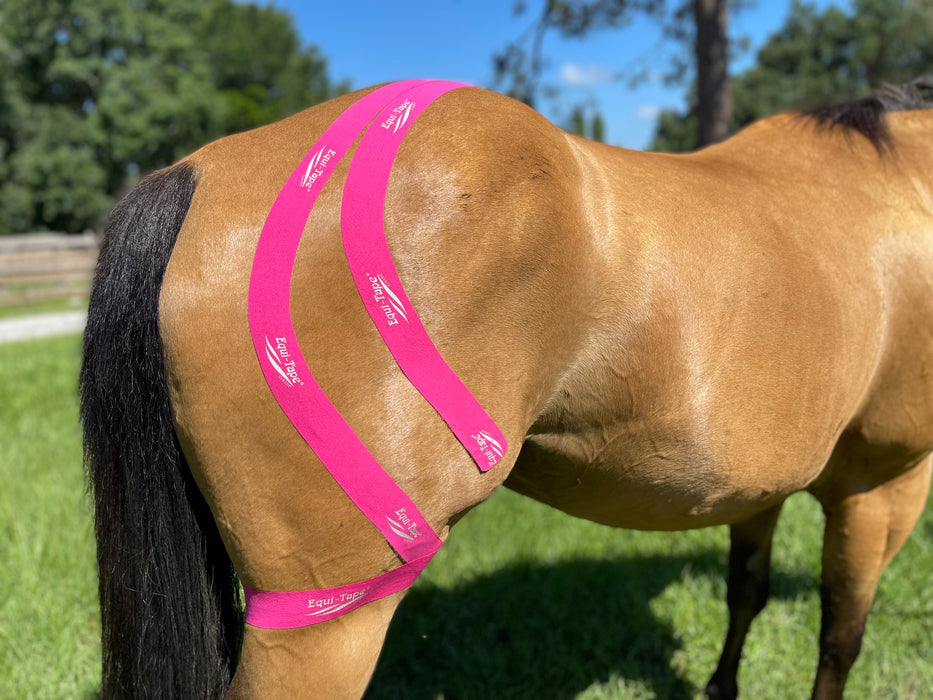 Module: The Stifle
Original price
$30.00
-
Original price
$55.00
Each module level is sold separately. If you are interested in purchasing all modules please add them separately to your cart before check out.
Are you ready to take your equestrian and equine healthcare knowledge to the next level? The Stifle modules are here to help! With Equi-Taping® modules available at progressive levels, you can learn and grow your skills in the areas that interest you the most. Our modules are designed to be engaging and informative, providing a truly exciting opportunity to expand your expertise. Get ready to explore the world of equine healthcare like never before with The Stifle Module!
Please note that each module level is available for individual purchase only. If you wish to purchase all modules, kindly add them separately to your cart before checking out. Please be informed that these modules are for educational purposes only and do not come with any physical products.
The Stifles Module is a comprehensive program that offers a detailed understanding of the anatomy of the horse stifle joint. It includes three different levels that focus on specific objectives, including the identification and management of common stifle joint injuries, such as poor conditioning, locking stifles (Upper Patella Fixation), medial patellar ligament sprains, and other related conditions. The module also provides unique and innovative applications that are specifically designed to deliver results in both training and rehabilitation scenarios. Overall, the Stifles Module is an essential resource that provides valuable insights and practical solutions for those seeking to enhance their knowledge and skills in the field of stifle joint management.

Lower Joint Support: Building muscle while supporting the lower joint 
Patellar Ligament: Support for the medial patellar ligament and the joint 
Lateral & Medial: Full lateral and medial support of the stifles
Get ready to take your equine care to the next level! Our modules include short, engaging videos that teach you specific Equi-Taping® applications, anatomy details, and protocols in less than 30 minutes. And that's not all - you'll also get bonus material like surface preparation videos, techniques videos, FAQ and answer videos, educational articles, and a PDF of Equi-Taping® Basic Rules.

But that's just the beginning. Our modules are available in multiple languages, including Arabic, English, German, French, Russian, and Spanish!

And the module advantages are endless. You'll learn how to use Equi-Tape® to support and stabilize the stifle, preventing injury and overcoming common issues. Start with Level One to benefit your horse in daily life and build your skills for more advanced applications. Level Two is perfect for working horses, helping build strength and balance, preventing injuries, and rehabbing the medial patella ligament - a common injury. Level Three is an advanced application for performance horses, post-surgery recovery, and rehabbing injuries.

And here's the best part - Equi-Tape® applications can be used in conjunction with other modalities like laser, massage, chiropractic, and acupuncture, enhancing and extending their therapeutic benefits. So why wait? Join us today and elevate your equine care to the next level!

Application Advantages

Imagine a world where your horse can train more efficiently, recover quicker, and perform at their absolute best. This world is possible with our revolutionary product that relieves tight, sore muscles associated with training, supports ligaments, tendons, and joints to help prevent injuries, and increases suppleness, flexibility, and strength. Our product is designed to take your horse's athletic performance to the next level and extend the effects of other treatments such as chiropractic, physical therapy, acupuncture, laser, PEMF, massage, and more. Say goodbye to mediocre performance and hello to excellence with our game-changing product!