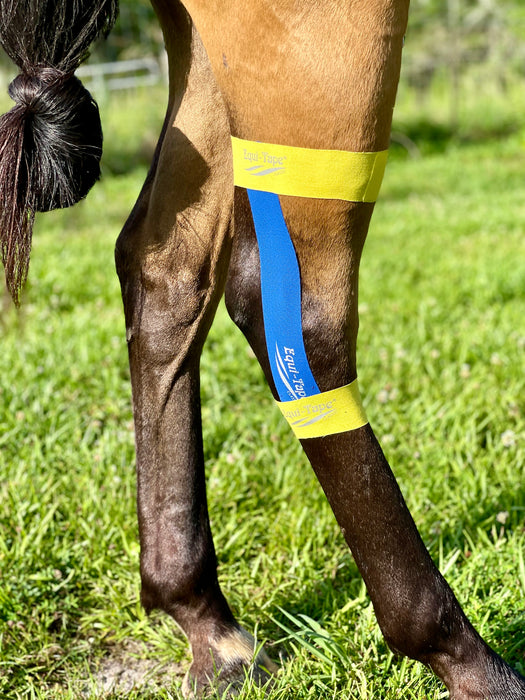 Module: The Hock
Original price
$30.00
-
Original price
$55.00
Each module level is sold separately. If you are interested in purchasing all modules please add them separately to your cart before check out.
The Hock Module will help you see the hock joint and it's roll in performance in a whole new light! We discuss the anatomical function of the hock, common injuries, and how to best support the hock to prevent injury or heal faster.
Please note that each module level is available for individual purchase only. If you wish to purchase all modules, kindly add them separately to your cart before checking out. Please be informed that these modules are for educational purposes only and do not come with any physical products.
Basic Support: This level is a basic support application anyone can do to give your horse extra support while at rest. Equi-Tape® covers common reasons to use the application, the anatomy of the joint, and why the hock breaks down and becomes injured.

You will learn s

tep-by-step instructions for how to tape and protocols for when, why, and how long to use the application.

Moderate Support: Designed for athletes, injury prevention, post-hock injections, and

rehab.

Level 2 is a moderate support application.



Any working horse from disciplines like jumping, dressage, eventing, reining, roping, cutting, driving, racing etc.

Full Support:

An advanced full support application designed for high-impact athletes, injury prevention, 



lameness issues, and rehabilitation scenarios. Equi-Tape® covers common reasons why the hock becomes injured and when to use this application. Research shows that this application benefits horses with arthritis by helping reduce inflammation and pain while supporting correct biomechanical movement and range of motion.



Included in each Module: Surface preparation video, Techniques video, FAQ and answer video, educational articles, and a PDF of Equi-Taping™ Basic Rules.
Multiple languages in CC (closed caption) include Arabic, English, German, French, Russian and Spanish!
Module Advantages: Learn to benefit the hock in a variety of training, care, or rehabilitation scenarios. Applications can reduce swelling, inflammation, and pain while supporting the hock and help prevent injuries. Levels 2 and 3 can improve the athletic potential in working horses, reduce fatigue and strain on the joints and surrounding muscles, and help horses recover from injuries faster. All applications can be used in conjunction with other modalities such as massage, laser, and chiropractic to enhance and extend the therapeutic benefits.
Application Advantages

Imagine a world where your horse can train more efficiently, recover quicker, and perform at their absolute best. This world is possible with our revolutionary product that relieves tight, sore muscles associated with training, supports ligaments, tendons, and joints to help prevent injuries, and increases suppleness, flexibility, and strength. Our product is designed to take your horse's athletic performance to the next level and extend the effects of other treatments such as chiropractic, physical therapy, acupuncture, laser, PEMF, massage, and more. Say goodbye to mediocre performance and hello to excellence with our game-changing product!