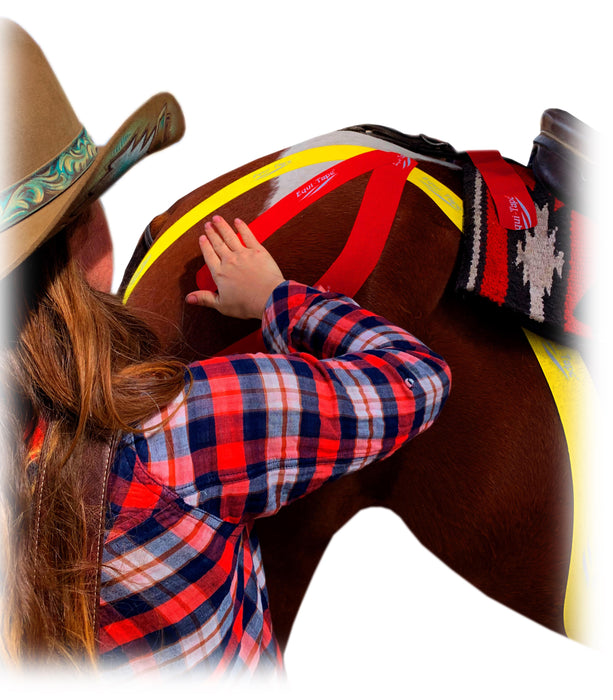 The Fundamentals of Equi-Taping™ Online Course
Original price
$450.00
-
Original price
$549.99
Use the drop down box to choose the option you would like.
Equi-Tape® is thrilled to offer the trademarked Equi-Taping Methodology Course online. Originally only available to select equine healthcare professionals, this comprehensive course is now available to equestrians and equine healthcare practitioners around the world.
Thanks to the pioneering work by Dr. Beverly Gordon, equestrians can now access the best and most field tested education in the word. Equi-Tape® is the professional's choice because we are the premier equine elastic kinesiology company committed to excellence in education, product quality and healthcare advancements.
The Fundamentals Course is an excellent training experience where students will learn the Equi-Taping™ Methodology for both training and rehabilitation programs. The course instructors will challenge students to learn and develop both skill and confidence to successfully tape horses.
This course is practitioner-level education. We recommend anyone interested in taking the course have a strong foundation in equine anatomy. Equine healthcare professionals have the option to become a Certified Equi-Taping™ Practitioner upon the successful completion of the Fundamentals course, online exam and corresponding case studies. 

Included in this course is downloadable step-by-step videos and photos depicting each step. This allows you to better reproduce the applications without the need of cell service or wifi making taping easier and faster. Subscribe today!
Included in the online course:
History of Equi-Tape®

, anatomy review, techniques, applications and pro-tips.
Knowledgeable instructors guiding you through straight forward practical information, over 15 hours of education between lecture, application videos, workbook, required reading and application practice 
Downloadable digital workbook for note taking and future reference
The science supporting Equi-Taping applications including equine anatomy, physiology and movement 
Equi-Taping™ Methodology - Guidelines which allow you to choose appropriate techniques to achieve successful applications 
Benefits, uses, exclusive techniques and protocols
Additional benefits include:
Practitioner-level education taught in a comprehensive informative online course
Beneficial for professionals and non-professionals
Non-professionals will gain confidence to safely and effectively tape horses.
The course will prepare equine healthcare practitioners to successfully integrate

 

Equi-Taping™

 

into their training, rehab and prevention management programs

Equi-Taping™

 

Practitioner Certification for equine healthcare professionals will be available upon completion of this course, exam and case studies
Kinesiology taping certification provides individuals with a deeper understanding of the principles and techniques of kinesiology taping. This can improve their skills and knowledge in their field of practice, making them more effective in treating patients or clients.
The Fundamentals Course Kit (contains 2 rolls of Classic tape, 2 rolls of Advantage tape, Teflon-coated kinesiology scissors, a handy How-to-Tape Guide, and an Equi-Tape area prep towel)