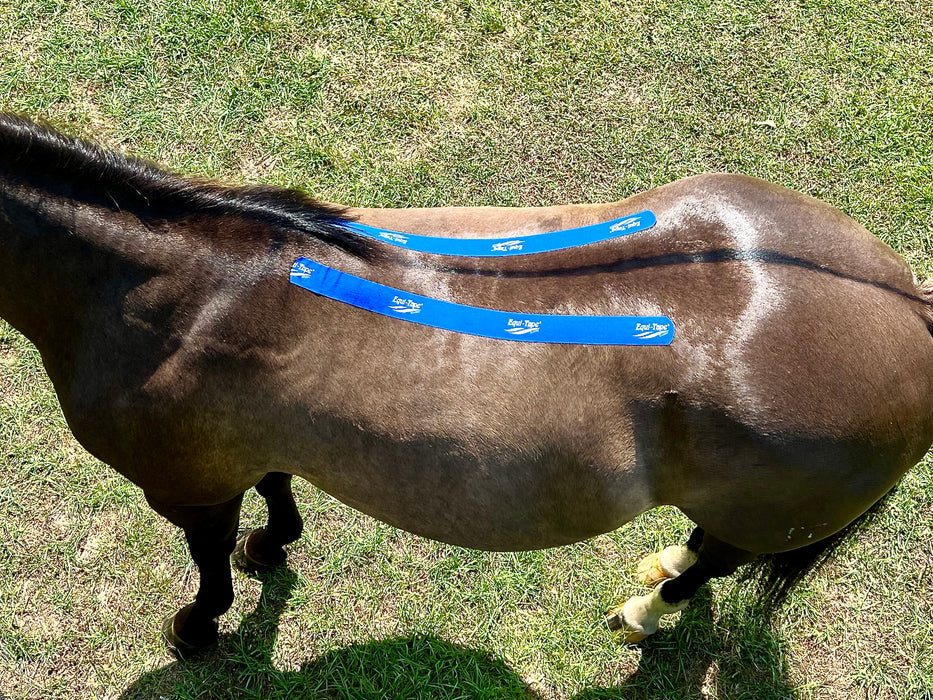 Module: The Back
Original price
$30.00
-
Original price
$45.00
Each module level is sold separately. If you are interested in purchasing all modules please add them separately to your cart before check out.
The Back module is designed to educate all levels of equestrians and equine healthcare professionals and has progressive levels. Grow your knowledge in the areas you want to learn.
Each module level is sold separately. If you are interested in purchasing all modules please add them separately to your cart before check out.
Muscle Relaxation:

Designed for the everyday horse owner, Equi-Tape® covers important information on anatomy and common back issues like soreness. Learn a simple yet effective application to help your horse's back experience pain relief, relax, and prevent soreness.



Athletic Support: Designed for the professional trainer, rider, and equine healthcare practitioner, Equi-Tape® focuses on athletic support, stability, and stifle injury prevention. We take an extensive look into

anatomy,

common reasons for back soreness,

and how to address and prevent issues like kissing spine. You will learn the effects and benefits of this application as well as when to use it in a short or long-term protocol

.



Advanced Support: Designed for

use by an experienced healthcare

practitioner, this advanced application focuses on

full

support and stabilization

of the back for high-level athletes,

rehab, or

injury

prevention. We cover common reasons the back becomes sore or injured and why stabilization is so important.

We take an

extensive look into the anatomy and how the horse's muscles work together to create movement.

You will

learn step by step

to create the perfect application

and p

rotocols

on

when, why,

and

how long to use the application

.

We discuss what horses will benefit from this application including horses who do hard spins and turns, like reiners and rodeo horses, hard runners

like

jumpers

or

racehorses

or

horses who have injured the longissimus dorsi, latissimus dorsi, quadratus lumborum, multifidus, (

back muscle) the

SI

,

have

kissing spines

,

or have had surgery on the back.



Included in each Module: A short video focusing on a specific Equi-Taping™ application, anatomy, and protocols. Learn how to achieve these specific applications in less than 30 minutes!
Bonus material includes: Surface preparation video, techniques video, FAQ and answer video, educational articles, and a PDF of Equi-Taping™ Basic Rules.
Multiple languages in CC (closed caption) include: Arabic, English, German, French, Russian and Spanish!
Module Advantages: Learn how to help your horse's back heal faster, feel better, gain stability, and prevent injury. Level one can benefit any horse and is the perfect application for daily use at the barn. Level two is an asset to any training program and can improve athletic potential by increasing suppleness, flexibility, and strength. Level three will greatly benefit performance horses and rehabilitation protocols especially post-surgery. Help your horse recover quicker and perform at its best!
Equi-Tape® applications can be used in conjunction with other modalities such as laser, Magna wave, Chiropractic, and massage to enhance and extend their therapeutic benefits.
Application Advantages

Help decrease swelling and relieve pain. Relieves tight, sore muscles associated with training. Support ligaments, tendons, and joints to help prevent stifle injury in horses. Help Increase suppleness, flexibility and strength.Improve training potential and athletic performance by helping horses train more efficiently and recover quicker.

Extend effects of other treatment modalities such as chiropractic, physical therapy, acupuncture, and massage.