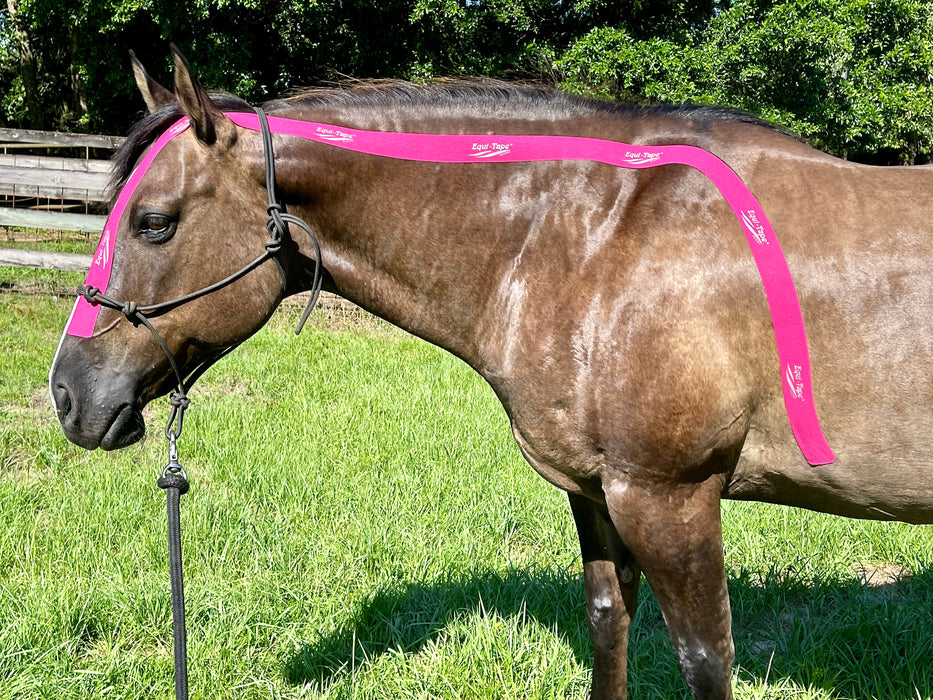 Module: Connections
Original price
$40.00
-
Original price
$40.00
Each module level is sold separately. If you are interested in purchasing all modules please add them separately to your cart before check out.
The Connections modules are designed to educate all levels of equestrians and equine healthcare professionals. Each Equi-Taping™ module allows you to grow your knowledge in the areas you want to learn. 
Each module level is sold separately. If you are interested in purchasing all modules please add them separately to your cart before check out.
Equi-Tape® has created effective and groundbreaking applications designed to engage the core muscles and connect different parts of the body together. When the horse has balance, true collection, and proper condition they can truly perform at their best. These modules are designed for all horses in training, conditioning, and work. Learn how Equi-Tape® can help create a soft and round body position for all levels and disciplines with the Connections Module.
Hind-End to Core Connection
Head Neck to Core Connection
Thoracic Sling
Hind-End to Core Connection: A key component of a horse's ability to performis the connection between its hindquarters and core. Horses can only be round and achieve true collection when the hindquarters and core muscles are fully-engaged to help lift, elongate and stabilize the back muscles.
Head, Neck to Core Connection: Proper self carriage directly effects a horse's ability to perform at his best. A horse stays balanced during their stride because of the position of their head, neck, and shoulders. Equi-Tape® can be used as a gentle training aid that can help create a soft head and neck position with lifted shouldersduring movement. Equi-Tape's® stretch and recoil during motion communicates with the horse's proprioception, making their mind aware of their different body parts. This dynamic can encourage correct biomechanical movement, balance and proper conditioning.
Thoracic Sling: Did you know that a horse has no collar bone? Horses' shoulders are attached to their body by a group of muscles, ligaments, and fascia called the thoracic sling. These strong muscles act like ''slings'' to suspend the chest between the horse's front limbs and by lifting the thorax. Together, all these muscles help the horse function properly by lifting the horse's chest and helping them move with good vertical and horizontal balance. When the thoracic sling doesn't function properly, the horse can be heavy on the forehand and will not have proper balance. Horses can also exhibit symptoms like head shaking or shyness, hypertension of the neck, and girth or saddle fit issues. In the Level 3 Connections Module, we discuss how to help activate and support the operation of the thoracic sling with Equi-Tape®.
Included in each Module: A short video focusing on a specific Equi-Taping application, anatomy, and protocols. Learn how to achieve these specific applications in less than 30 minutes!
Bonus material included in every module: Surface preparation video, Techniques video, FAQ and answer video, educational articles, and a PDF of Equi-Taping Basic Rules. 
Multiple languages in CC (closed caption) include: Arabic, English, German, French, Russian and Spanish!


Module Advantages
No matter your discipline, every level of the Connections Module can help influence proprioception and support connected biomechanics leading to improved balance, impulsion, and overall performance. We also discuss the need for proper training and conditioning and demonstrate ways to use Equi-Tape® applications to enhance your training routines and help your horse succeed. Every application can be used on horses while at rest or in work and can be used in conjunction with other therapeutic modalities like laser, chiropractic, and PEMF.
Application Advantages

Help decrease swelling and relieve pain. Relieves tight, sore muscles associated with training. Support ligaments, tendons, and joints to help prevent stifle injury in horses. Help Increase suppleness, flexibility and strength.Improve training potential and athletic performance by helping horses train more efficiently and recover quicker.

Extend effects of other treatment modalities such as chiropractic, physical therapy, acupuncture, and massage.